We support your BIM contracting process
We implement BIM-based work methodologies and technological solutions
We optimize BIM work methodologies already in place
We define and implement BIM standards, manuals and templates
Get access to all our services through pre-configured packages of hours
We support technical departments in Outsourcing
We provide answers to the specific needs of your company or institution
BIM for the Technical, Commercial and Marketing departments
Training in BIM tools (collaboration, marketing, sales)
We provide answers to your company's punctual needs
We develop BIM applications and content to support technical departments
We develop digital product libraries in the form of CAD and BIM objects
Ease of publicizing your products
Direct integration of your products into projects
Automatic prescription of your products
Support for users and potential customers
Replacing paper and PDF catalogs
Marketing and sales support
Project, construction and maintenance support
Product visualization
Product Prescription
Understanding of product characteristics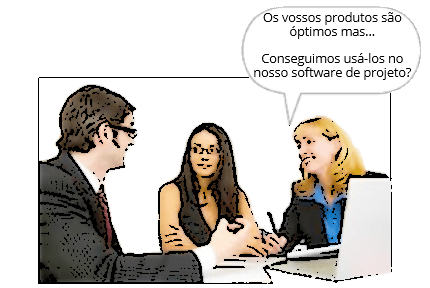 7 Things a Manufacturer Should Know about BIM
BIM (Building Information Modeling) is a work methodology based on a virtual model that simulates the physical and functional aspects of a building and contains information about the characteristics of each of its building components. BIM is a collaborative process, since the model is built by the different parties involved in the project and construction phases (architects or designers, engineers, estimators, constructors), and is an information-sharing resource and a reliable source for making decisions about a building during its life cycle.
BIM is a work methodology. However, there are different computer applications called "BIM" that allow different players to create, interact, extract information or manage the construction from a virtual model. Some examples are Archicad and Revit for architectural and engineering design, Tekla for structural detailing, Vico for budgeting and construction management, Solibri for Virtual model analysis and consultation, ArchiFM for facilities management, but many others exist on the market.
3. How can manufacturers participate in BIM?
The BIM methodology assumes that the virtual model is as close to reality as possible. As it happens in reality, the role of the manufacturers is essential, because only with their products is it possible to execute the constructions. The same is true for the BIM model, in which it is necessary to use materials and equipment in digital form. Manufacturers should make digital versions of their products available in the form of BIM content or be prepared to become players themselves in the development of the virtual model within the collaborative BIM process. In the absence of products in BIM formats, designers tend to use generic products in their projects, to which they associate only the minimum information, since this will have to be completed later with the information of the product that will actually be used. The availability of products in BIM formats allows their selection and detailed specification in the early design stages. In principle, there is a higher probability of effective application of a product on site when it is inserted and specified within a BIM model.
There are different ways to integrate products within BIM software. The most common method is to create libraries of objects, which represent specific products and contain their most relevant information. Inserted in the virtual BIM model, they allow you to simulate the final construction, understand its operation, calculate its behavior and installation needs, obtain the brand's contacts, references, warranty terms, among other information. Once inserted in the virtual model they are available to be presented to the client by the architects and designers, budgeted by the builder, and managed and maintained by the owner.
5. How to promote products through BIM ?
Insofar as they simulate real products and are used to develop projects, BIM objects are an extremely efficient form of dissemination. As digital content, it can be disseminated on the manufacturers' websites and specialized portals, blogs, and social networks. On the other hand, the widespread use of BIM is still a recent phenomenon that captures the attention of designers, builders, and owners all over the world, providing a great excuse to directly re-contact old and new clients, or to promote events around BIM and its products.
CAD was a technology that was born in the early 1980s and by the 1990s was already being used globally as a tool to support project design. Although still used for design support, since the beginning of the century CAD has been replaced by the powerful BIM tools that manage all project information, including the design. In the case of libraries, in addition to geometry, BIM objects contain information about the products, such as the brand, reference, and available finishes, among others. They are often interactive and allow users to select different options and better understand how the product works. CAD libraries only contain the geometry of the product, usually in too much detail and in files of inadequate size for use in design. However, CAD files are often used to support the production of BIM libraries, which is another way to monetize a previous investment.
Today there are few project offices in Portugal that do not have at least one BIM software license, usually Graphisoft's Archicad or Autodesk's Revit. In Portugal BIM has a growing number of supporters, and there is already an organization – BIMfórum Portugal – which aims to promote the development of the Portuguese BIM standard. Outside Portugal BIM is used globally and we find several situations where its use as a methodology to support construction is, or soon will be, an imposition. The UK is a close example, where, under a 2012 law, the entire design and construction industry will have to adapt by 2016 to use BIM methodologies in the development of works for the state. In the United States, BIM has been a required format for the Department of Defense for several years. In the Nordic countries, BIM is not only the most common working methodology, but most of these countries already have national BIM standards. Also in eastern countries like China, Japan or Singapore, BIM is a long-adopted technology. In recent years, construction worldwide has reached increasing magnitudes and complexities. BIM is the technology that supports this new capability and manufacturers of building products must be part of it.
Frequently Asked Questions